The Wolf Review of 2011 heralded major changes to the Key Stage 4 Performance Tables this year. Much of the media coverage in the wake of their publication tended to focus on a fall in the headline percentage of pupils achieving 5 or more A*-C grades (or equivalents) including English and mathematics and a rise in the number of schools falling below the floor standard of 40%.
The main cause of the change was that large numbers of previously eligible qualifications were no longer counted. Further 'new rules' were also introduced, such as no qualification was to be counted as more than one GCSE. Some of this change was long overdue: many qualifications formerly equivalent to 4 GCSEs in Performance Tables were designed to be completed in around 360 guided learning hours (equivalent to 3 GCSEs).
Early in 2012 the Department for Education published a list of qualifications that would be eligible for the 2013/14 Performance Tables. Figure 1 suggests that schools responded accordingly and entered pupils for fewer qualifications overall, including those that were not eligible for inclusion. Based on the 'old rules' for Performance Tables, which we use here to enable comparison with previous years, pupils in England were entered for just under 11 GCSEs and equivalent qualifications on average in 2013/14 compared to just over 12 in 2011/12 

[1].

Mean number of qualifications entered (GCSE equivalents, old rules), pupils reaching the end of Key Stage 4 in maintained mainstream schools 2009 to 2014

Based on the 'new rules', pupils entered an average of 9.1 qualifications in 2013/14. Figure 2 shows that the impact of the 'new rules' was greater for pupils with lower levels of prior attainment [2]. For example, pupils with a mean KS2 fine grade of 3.5 were entered for 10 GCSEs (or equivalents) based on 'old rules' but only 7 GCSEs (or equivalents) based on 'new rules'. The impact of the 'new rules' was greater for disadvantaged pupils (Table 1).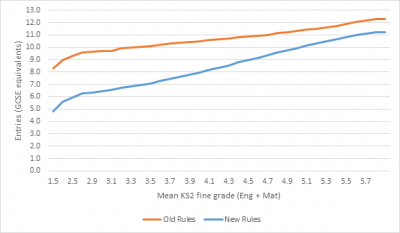 Table 1: Mean number of GCSEs (or equivalents) entered by prior attainment, pupils reaching the end of Key Stage 4 in maintained mainstream schools 2014

Roughly half of the difference between 'old rules' and 'new rules' shown in Table 1 arises because some qualifications previously considered to be equivalent to 2 (or more) GCSEs are now counted as a single GCSE. The remaining difference is due to some qualifications no longer being counted at all.

So which types of qualifications beyond the list eligible for Performance Tables did schools continue to offer? The full list extends to almost 3 thousand individual qualifications, many taken by only a handful of pupils, though some have a high volume of entrants. These include:
Short course GCSEs, hitherto counted as half a GCSE and commonly taken in religious studies and citizenship
A range of level 2 (equivalent to grades A*-C at GCSE) and level 1 (equivalent to grades D-G at GCSE) qualifications in

computer use
preparation for work
sport

Functional skills in communication and numeracy
A range of level 1 and entry level qualifications in modern foreign languages, particularly French.
Measured using GCSE equivalents, around half of the qualifications not counted in Performance Tables were entered by pupils in year 11. This includes the majority of entries in short course GCSEs (religious studies and citizenship) and in level 1/ level 2 computer use, preparation for work and sport. This might lead one to suspect that schools are phasing out the other types of qualification entered by pupils in year 10 or earlier and numbers of entries will reduce further. However, summer 2014 entry data for year 10 pupils (who will reach the end of Key Stage 4 this summer) challenges this suspicion. Schools are still entering pupils in these sorts of qualification prior to year 11, possibly as stepping stones to other qualifications taken during year 11.

In the foreword to the Wolf Report, the then secretary of state for education stated that, "far too many 14-16 year olds are doing courses with little or no value because Performance Tables incentivise schools to offer these inadequate qualifications." With this incentive removed, it is likely that schools have continued to offer these qualifications because they believe they are relevant and worthwhile for some pupils. Of course, this does not mean that they would be relevant and worthwhile for all pupils. However, making this distinction is a finely nuanced judgment best made by schools and it does not lend itself easily to formal, logical definition for Performance Tables purposes.

The introduction of Attainment 8 and Progress 8 in 2016 will represent a further step forward for the accountability regime as it will remove any incentive, whether real or perceived, for schools to focus on pupils on the C/D borderline. It could be further strengthened by publication of additional measures covering the full range of qualifications achieved by pupils with lower levels of prior attainment.
---
[1]

There is one caveat: international GCSEs (IGCSEs), which were approved for pre-16 use between 2010 and 2013, were not approved in 2014 and so are not included in the data for 2014. However, this would have an imperceptible effect on Figure 1 as there were only 1700 entries from pupils in state-funded schools in IGCSEs in subjects for which they did not have an entry in a corresponding full course GCSE.

[2]

Around 17% of pupils had a mean KS2 fine grade below 4.0.