When MPs quote education statistics, I'm always curious where they got them from and whether they are accurate. Last week, Labour leadership contender Liz Kendall made a speech in Leicester where she mentioned that in Leicester West, 'children start school on average 15 months behind where they should be in terms of their development'.
We don't, yet, routinely assess children as they arrive in school and other major surveys aren't big enough to disaggregate statistics by constituency. But Early Years Foundation Stage profiles are submitted towards the end of their Reception year, summarising communication and language skills, physical development and personal, social and emotional development. These can be aggregated to an overall score.
As expected, FSP score varies by date of birth, sex of child and FSM status. So we can say that boys are almost 5 months behind girls and FSM pupils are 7 months behind non-FSM pupils by the end of Reception. And children score about 1 Foundation Stage Profile (FSP) point more for every month they are older than the youngest child in the class.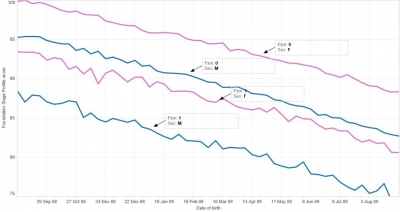 Is it really true that children in Leicester West are 15 months behind in development when they start school? I don't know, but by the end of Reception their FSP profile shows them to be over 8 months behind the national average. And she certainly chose the right constituency to emphasise the importance of early years interventions: children in Leicester West are further behind any other constituency in the country.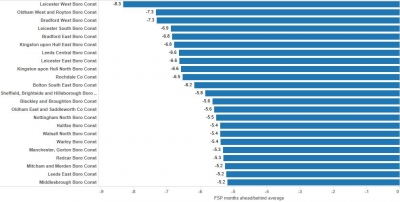 Part of the difficulty in MPs quoting these statistics is that they use the word 'expectations' in the colloquial sense, meaning 'where they should be' or 'where we would like them to be'. As statisticians the word 'expected' corresponds with the mean average. It is worth noting that children in Leicester West are 15 months behind those in Altrincham and Sale West, which has the highest Foundation Stage Profile scores in the country. Perhaps this is what she had in mind.