A-Level examination sittings, which stretch from mid-May through to the end of June, often overlap with an international football tournament.
Unfortunately, football lovers, who are more likely to be boys than girls, can find this a distraction from their revision schedule. Economists at the University of Bristol have noticed how this has damaged English boys examination success in the past.
And in 2016 the Welsh football team had an unprecedented month of success in Euro 2016, winning their first game on the 11th June and only losing to Portugal in the semi-finals on the 6th July.
Such great celebrations of Welsh football in the months of June and July appear to have translated into some Welsh boys missing their expected A-Level grades today.
The proportion of Welsh boys achieving the highest A* grade has fallen significantly in 2016 from 7.8% to 6.7%. Welsh girls have seen a much smaller fall from 6.9% to 6.5%, perhaps reflecting their lower level of interest in football.
By contrast, the poor performance of the England team meant there was less to distract English boys.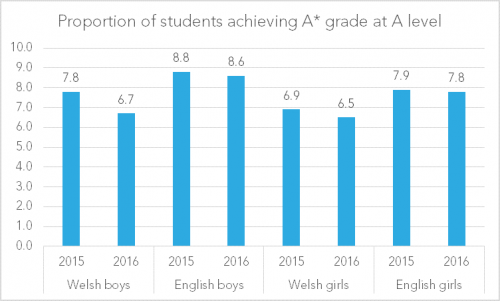 The underperformance of Welsh boys this year varies considerably by subject. It is most striking in mathematics, English, business studies, ICT, chemistry and sociology.
These differences could reflect the timings of the examinations in relation to the football matches as well as the mix of students taking the subject. The Bristol academics showed that students from lower income families were more likely to be harmed by football tournaments.