The Secretary of State for Education, Nicky Morgan, will likely talk this week about the new requirement for schools to teach all Key Stage 4 pupils the English Baccalaureate subjects of English, maths, science, history or geography and a language. This follows a speech last week by Nick Gibb and is arguably the most significant part of the Tory Manifesto. And the most difficult to implement.
Schools have already responded to the introduction of the EBacc with 39% of pupils entered for the 5 subjects in 2014 (figure 1). But the new universal requirement clearly represents an enormous change in curriculum for many pupils, particularly those with low prior attainment and those eligible for free school meals.
Figure 1: Percentage of pupils "entered for the English Baccalaureate"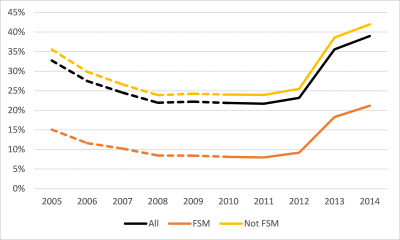 Note: this is state-funded schools only. EBacc was first calculated in 2010. Entry rates for previous years are Education Datalab calculations.
On the face of it, schools should be able to make significant progress in EBacc entry rates over the next few years should they want to. Around 1-in-4 children had four EBacc slots filled and so adding an extra entry to only half of this group would take national EBacc entries over the 50% mark (figure 2).
Figure 2: Number of filled EBACC 'slots'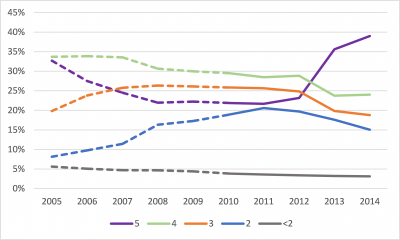 The real difficulties clearly lie in entries to languages, which at around 50% are still below 2005 levels (figure 3). We think only 7 schools had no entries in languages in 2014, but around 250 had entries for only 1-in-5 of their pupils and a similar number achieved entries for over 90% of their cohort. Schools cannot use non-specialist language teachers to deliver these classes since few will have adequate skills to do so.
Figure 3: Percentage of pupils entered for GCSEs in science, humanities and MFL