How's your driving? Below average, pretty normal, or better than most?
Research suggests that the majority of our readers have just answered 'better than most'. They are surely wrong. Only half of drivers can be better than the median. The other half are, by definition, below it.
This is an example of what psychologists call 'Illusory Superiority', a phenomenon which is by no means limited to our skills behind the wheel. Studies have shown that we tend to overestimate our ability relative to others in a range of areas from leaderships, to parenting and even social skills.
What about schools? Surely teachers, with access to Ofsted judgements, regular testing and sophisticated outcome measures, have an accurate picture of their performance?
We surveyed a representative sample of over 200 English, maths and science Heads of Department to find out.

[1] Figure 1 shows how respondents thought their departments performed in GCSEs, relative to departments in other schools serving similar intakes. Fully 43% thought themselves to be superior, while only 17% assessed themselves as being worse than others.

Figure 1: How is your department performing relative to others with a similar intake?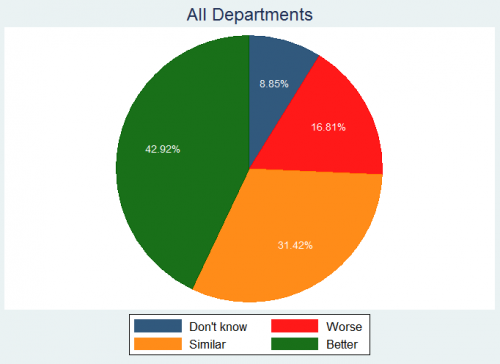 We then calculated performance measures that control for school intake and split the departments into two groups based on their scores. The results for low performing departments are particularly striking. Almost a quarter incorrectly believe themselves to be high performing, with another 43% believing they perform similarly to others.

Figure 2: How is your department performing relative to others with a similar intake?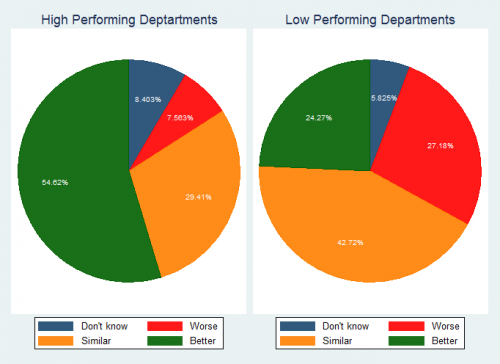 So according to our data, many Department Heads do indeed suffer from illusory superiority. If you're a middle leader reading this, you probably still think your one of the select few with an accurate assessment. But that's the thing about illusory superiority: we all think we're special.

Given the prevalence of performance data these days, how can it be that so many Department Heads don't have an accurate picture of their own performance? Recent research suggests that the dominant reason is our desire to avoid undesirable judgements about ourselves. This urge is particularly strong when we are being assessed on important tasks, such as teaching. Some middle leaders are simply choosing to ignore the data. Departmental Heads buried in the sand.

This cannot be good for schools, or pupils. Fortunately the research on driving offers pointers on how we can keep illusions of superiority in check. Motorists were found to offer more accurate assessments of their performance when they expected their judgement to be reviewed by others afterwards, particularly if they saw the reviewer as high status.

So what should schools do? Middle leaders could help keep themselves honest by collectively reviewing each other's exam performance. An annual inter-school meeting to analyse results would be a start. The Families of Schools database, which groups schools with similar intakes, can help make these comparisons more transparent. But what really matters is that performance is reviewed by respected, knowledgeable colleagues.

We are all prone to thinking we're better than we really are. Even you. That makes collaboration the only reliable antidote for complacency.
---
[1]

This is part of a large study of 'Subject Excellence Clusters' that will report in Spring 2016