So you'll get your GCSE results on Thursday. They'll show that you've done really well. Have you decided what you're going to do next? Has your school got a sixth form? Are your grades good enough? Are there any Colleges nearby? What do they offer?
Now imagine you come and live with me in South West London. (I'm not sure of the circumstances of this arrangement but go with it.) Are the same options open to you? Do you have more or fewer? How might this affect your route towards higher education (if you want to go there) or employment?
In this post I explore how post-16 provision is organised across the country and its relationship to the types of level 3 qualifications that young people study.
The variety of Post 16 provision
Post-16 provision is enormously diverse compared to pre-16 provision, not least because a lot of it takes place outside of schools in Sixth Form Colleges and General FE Colleges.
Whilst most young people will be studying at level 3 (A level or equivalent), many will be studying at level 2 (GCSE or equivalent) or below. Some may take an extra year to complete additional level 2 qualifications (or resit existing qualifications) and then progress to level 3.
Many young people will be on an academic route, some on a vocational route and some doing a mixture of the two.
There is no single qualification like a GCSE at Key Stage 4 that assesses the population of young people at age 18/19. Instead, we have a wide range of qualifications all of which have their equivalence to A levels or GCSEs determined by Qualifications and Curriculum Authority (and UCAS in the case of level 3 qualifications).
So there is a lot to think about. I am going to make it slightly easier for myself by only considering level 3 study. That does not mean not valuing study at level 2 or below. I'll come back to this another day.
How many young people complete level 3 study by age 19?
I look at a cohort of young people, those who reached the end of Key Stage 4 in 2011 at a state-funded mainstream school. I then look to see how many completed two years of level 3 study (A level or equivalent) by 2014 according to definitions adopted by the DfE 16-18 School and College Performance Tables

[1]

.

Over 60% of the 2011 national KS4 cohort completed level 3 study by 2014. The attainment of 5 or more A*-C grades at GCSE (or equivalent) including GCSE English and mathematics (AC5EM) by the end of Key Stage 4 is a key driver: 82% of those who achieved it completed level 3 study compared to 32% of those who did not.

Figure 1 shows the variation in level 3 completion rates between regions, from over 70% among young people resident in Outer London to under 60% among those resident in the Midlands, North East and Yorkshire & the Humber. We might expect a higher level 3 completion rate in London given the higher level of KS4 attainment but Figure 1 suggests a greater proportion of young people without AC5EM at KS4 go on to complete level 3 in London than elsewhere.

Figure 1: Level 3 completion and AC5EM attainment rates by Government Office Region of residence, 2011 KS4 Cohort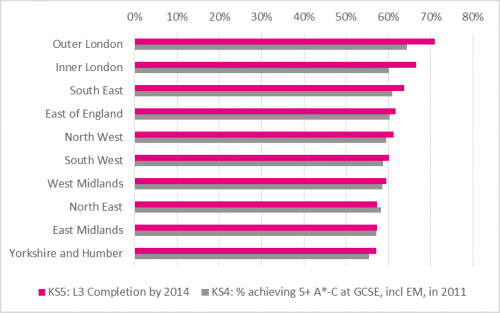 Among the group that completes level 3 study, there are also marked regional differences in the balance of student numbers between schools, sixth form colleges andn general FE colleges. These are shown in Figure 2. Note that I have not shown the small number of young people who complete level 3 study in other types of institution such as independent schools.

Proportionately fewer students achieve level 3 in FE colleges in London compared to other regions whereas proportionately more do so in the North East and South West. Completion in sixth form colleges is much more common in the North West than elsewhere.

Figure 2: Type of Post-16 institution attended by Government Office Region of residence, Level 3 completers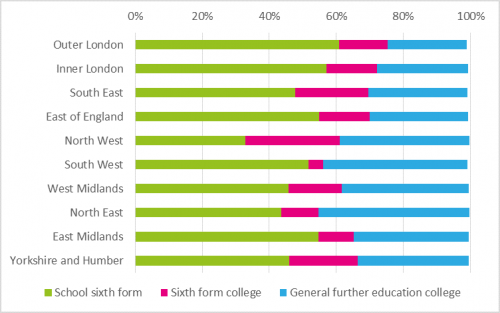 What you do depends on where you do it
The type of provision on offer in an area is related to the types of level 3 qualifications young people enter. In Figure 3 I look at four different indicators:
Entry in 3 or more A levels or equivalent
Entry in 3 or more A levels or equivalent academic qualifications such as the International Baccalaureate and Cambridge Pre-U
Entry in vocational qualifications equivalent to 3 or more A levels
Entry in at least one A level in a 'facilitating' subject as defined by the Russell Group of universities [2]
Figure 3 compares entry rates among level 3 completers in the four indicators above by institution type. The percentage of students who achieved five good GCSEs at KS4 is also shown. Relatively few students are entered for 3 vocational qualifications in schools and sixth form colleges. Most who enter 3 qualifications do so in academic qualifications. In general further education colleges, a lower percentage of students enter 3 qualifications although this might be expected given their lower level of prior attainment compared to schools and sixth form colleges. Entry rates in sixth form colleges and general further education colleges in future may well reduce as a result of funding pressures.

Figure 3: Types of level 3 qualifications entered by Post-16 institution type, level 3 completers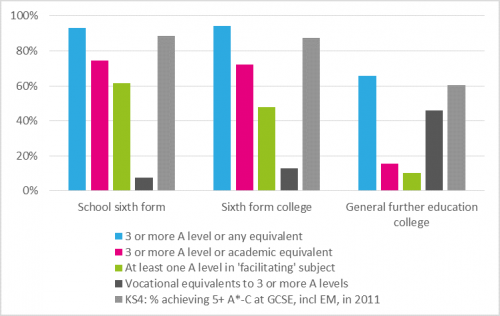 So far all this probably shows is that the general further education sector serves a different segment of the population than do schools and school sixth form colleges. This will include young people who expressly wished to pursue vocational options after Key Stage 4 as well as giving second (or even third) chances to young people who may have started out on an academic route in school only to discover it was not for them.
Going to a secondary school without a sixth form could affect your chances of getting into a Russell Group university
So let's look at the data slightly differently and see whether schools had sixth forms at the time our cohort of young people completed KS4 in 2011. 30% of our level 3 completers ended KS4 at a school without a sixth form. Figure 4 shows that just 12% of them completed level 3 study at a school compared to 64% of young people who attended a KS4 school with a sixth form.

Figure 4: Type of post-16 institution attended by type of secondary school attended, Level 3 completers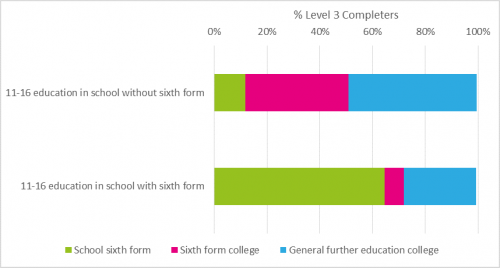 Now let's look at the types of qualifications entered. Those who ended KS4 at a school without a sixth form were less likely to be entered for 3 academic qualifications or a facilitating A level. They were more likely to be entered for 3 or more vocational qualifications.

Figure 5: Types of level 3 qualifications entered by type of secondary school attended, level 3 completers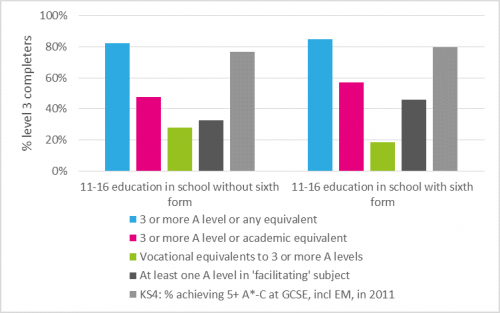 Why was this? Of course, it is possible that the variation we see in Figure 5 is entirely driven by variations in KS4 attainment and student characteristics (e.g. disadvantage, ethnicity) between the two groups of schools. Further analysis of the data would help to uncover this. Doing a fairly slapdash job, the 'gap' of 13 percentage points in being entered for a facilitating A level drops to 6 percentage points.

So assuming this gap is real and not a data mirage, what is causing it? Did young people who attended secondary schools without school sixth forms have fewer opportunities to study A levels in facilitating subjects? Did they get the same quality of advice about post-16 options? Were they not able to access facilitating A levels as a result of their GCSE (and equivalent) choices? Will the gap widen as a result of the funding pressures being felt by Sixth Form Colleges? Will it narrow as a result of the Government's new Careers and Enterprise Company providing advice to young people?

Furthermore, if there are regional or local differences in the way post-16 provision is carved up between schools, Sixth Form Colleges and General FE Colleges do they lead to variations in equality of opportunity? How effective are 14-19 partnerships between local authorities, schools and Colleges these days in planning post-16 provision?

I don't have any answers to these questions – I'm interested in readers' thoughts. But writing in 2014, Professors Ann Hodgson and Ken Spours from UCL Institute of Education offered a bleak outlook on how the sector was developing:

"The philosophy of the market, growing institutional competition and the lack of support for 14–19 partnerships between schools and colleges could well lead to greater inefficiency, inequity and polarisation at the local level."[3]
---
[3]

Hodgson, A., & Spours, K. (2014). Middle attainers and 14–19 progression in England: Half-served by New Labour and now overlooked by the Coalition?

British Educational Research Journal, 40

(3), 467-482.