Last month, DfE published new guidance for academies wanting to open a new school sixth form. The guidance includes the recommendation that they should have at least 200 pupils and offer 15 A levels (as reported in TES last week).
We think over 40% of existing school sixth forms fail to meet these guidelines, for most part because they are too small.
The chart below shows the number of state-funded mainstream school sixth forms by size of the years 12-14 cohorts. The average size of sixth forms in these 2,070 schools is just 211 pupils and 43% of those open long enough to have year 12 and 13 cohorts have fewer than 180 pupils.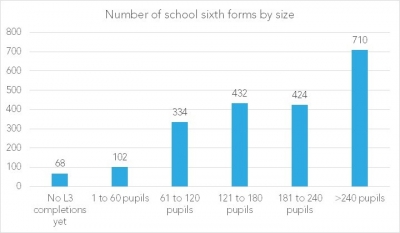 Note: those with no level 3 (A level of equivalent) completions in summer 2014/15 are likely to be new sixth form provision (they are almost all academies or free schools). Most have small numbers of Y12 pupils and so unlikely to achieve close to 200 pupils by January 2016.
Most of the 1134 schools that are sufficiently large offer over 15 different subjects
We classify those with at least 181 sixth formers as large, giving room for in-year student number changes beyond the DfE recommended figure of 200. Of these, all but 38 had entries in at least 15 different A level subjects in January 2015 (and of these 38, almost all offered at least 15 subjects if qualifications equivalent to A-levels are taken into account).
The majority of the very small sixth form colleges provide a broad subject offer
Of the 868 schools with 180 or fewer sixth formers, 546 offer at least 15 A level subjects and about half the rest offer 15 subjects if equivalent qualifications are included. This suggests that students at very small school sixth forms are getting a good experience where they are able to access a broad range of courses to meet their interests. However, it also suggests that the schools themselves are running some A level courses with very small class sizes, possibly by cross-subsidising the sixth form provision using funds from elsewhere or by delivering some courses in partnership with other schools.