This is one of several blogposts in Datalab's 'Who's left' series of posts. The full series can be found here.
Pupils moves are a common, but under-scrutinised part of the education system.
For the children who change school, it's no small thing. A new school to get used to, a change of friends, new teachers, and different subjects or syllabuses in some cases. Despite this, they receive relatively little attention from policymakers and researchers.
In work we did previously we found that those who completed a move during their secondary schooling were more likely than average to be eligible for free school meals [PDF] and were less likely to achieve five good GCSEs than those who received their secondary education at a single institution.
There's not necessarily any causal relationship in either case – but if nothing else, these findings suggest that this is a group of pupils who deserve more attention.
As a result, we have returned to the topic.
This post sets out the general picture of secondary school moves. But for those with limited time, our main findings can be found here.
And three questions which we are asking the Department for Education (DfE) to consider are given here.
How many children move schools each year?
Looking at the cohort of children expected to complete KS4 in academic year 2014/15, there were around 530,000 children studying at nearly 2,900 mainstream, state-funded secondary schools that admit in Year 7.
For these children, analysis of the National Pupil Database shows there were around 87,000 instances of a child leaving a state-funded school across their five years of secondary schooling.
Moves peak in Year 9, and tail off distinctly after this point: 75% per cent of all moves that will happen take place in the first three years of secondary education.
The table below gives an idea of where children move to.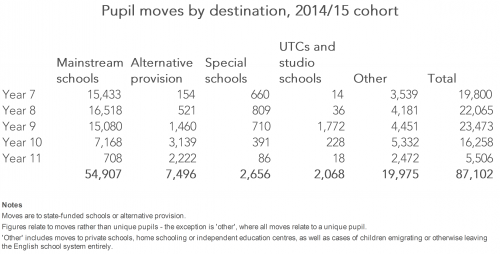 Around 67,000 moves were to elsewhere in the state sector – a mainstream school, alternative provision, a special school or a university technical college (UTC) or studio school (new types of academy).
In just shy of 20,000 cases, the child left a mainstream secondary and were never recorded as being on-roll at a state-funded secondary education institution again.
In what we think is a minority of cases, the child will have left England, while in an even smaller number of cases the child could have died.
In most cases, though, these children will be receiving an education at a private school, independent alternative provision, an independent special school, or in further education – or be being home-schooled, or attending unregistered education settings.
These are a group of children who we think are of particular interest – and who we look at in more detail in our main post.
Why do pupils move school?
There can be a multitude of reasons why a child changes schools – moving house, getting away from bullying, or a move to a school that can provide better support for a child in some way being just some of the most obvious reasons.
Reasons such as these will account for the majority of moves.
It's worth saying that again: it's safe to assume that the majority of moves will be made based on parents' assessment of what is best for their child, or with full parental support.
There are circumstances, though, in which parental choice plays less of a role.
Permanent exclusions form part of the picture, as do managed moves, in which the school at which a pupil is on-roll, a second school, and the pupil and their parents or carers agree that the child will change schools, initially on a trial basis.
There will also be other types of move, though – those in which no exclusion takes place, but where the decision to leave a school would not have been parents', or a child's, preference.
There have long been tales of schools encouraging parents to remove difficult children – sometimes with the suggestion that a permanent exclusion on a child's record is in nobody's interest [PDF].
These are sometimes referred to in slightly euphemistic terms: managing out; grey exclusions; off-rolling.
It is the possibility of this type of move, and the positive impact which it could have on a school's league table results, which particularly concerns us.
Now read the rest of Datalab's 'Who's left' series of posts.