A massive 59% of A-Level exams sat in England this year were in reformed subjects which follow the new, linear model of sitting one set of exams at the end of the two-year course.
Overall, and perhaps surprisingly, A-Level entries by 18-year-olds in reformed subjects increased by 2.3% in England. This compares to 0.7% in other subjects. The 18-year-old population (in schools at least) was much the same as last year.
Entries have not increased in all subjects though. There was a drop from 44,000 to 41,700 in history, for example. Perhaps coincidentally (or not) there was an increase from 12,000 to 13,900 in the unreformed government and politics A-Level.
Whilst entries in reformed subjects have increased, attainment has fallen slightly. The percentage achieving A*-C fell from 78.4% last year to 77.1%, and for A*-A, from 25.0% to 24.3%.
In unreformed subjects, attainment improved, from 79.0% to 79.5% at A*-C and 29.6% to 30.6% for A*-A.
This would tend to suggest that the prior attainment profile of students entering reformed subjects in 2017 was weaker than it was for those same subjects in 2016.
However, reforming subjects may have improved the attainment of boys relative to girls. The percentage of boys achieving A*-A fell only slightly, from 24.5% to 24.3%. The impact for girls was greater – down from 25.4% to 24.3%.
A comparison with Wales
At the same time as these reforms are taking place in England, Wales is also reforming A-Levels. However, they are reforming the curriculum only, retaining the modular approach that has been in place since Curriculum 2000 – including keeping the AS-Level and A-Level link[1].
A comparison of changes in entry rates between England and Wales allows us to see whether there is evidence that the loss of modularisation is affecting subject choices in England.
Both countries are experiencing a shrinking population of 17-year-olds (Wales much more so than England), so to make for more meaningful comparison it makes sense to consider the change in subjects' share of overall entries – shown in percentage points in the chart below.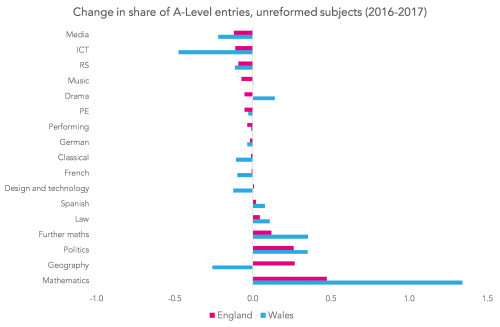 At the top of the first chart we can see loss of entry share for the reformed A-Levels in history and English. However, the losses are generally larger in Wales than they are in England. So perhaps it is the curriculum reform itself, or something else entirely, that is deterring students and not the loss of modular entries.
At the bottom of the chart we can see that entries to the reformed science A-Levels in England have held up well.
There is an interesting story about changes in subject popularity in Wales, with huge year-on-year increases in maths entry rates and a significant decline in the popularity of biology A-Level.
The proportion getting a B or above in maths has declined slightly in Wales (43.2 to 41.9), suggesting the increase in entries is coming from lower attaining students.
Meanwhile the proportion getting a B or above in biology has increased dramatically (from 43.7 to 49.3), suggesting that proportionately fewer lower attaining students are taking the subject.
We will watch carefully to see what happens when maths A-Level is finally reformed in two years' time.
Want to receive other results day blogposts by email? Sign up to our mailing list to get notifications about new blogposts, or to receive our half-termly newsletter
Notes
1. In reformed subjects in Wales, AS-Levels will, though, only count as 40% of the A-Level, rather than the previous 50%.