The November 2015 School Workforce Census, published today, shows that wastage out of the teaching profession has risen again to 10.6%. Teachers leave the profession when they unhappy with working conditions and when they can find other employment opportunities. These statistics suggest that it is teachers in secondary and special schools who are most currently dissatisfied with their jobs.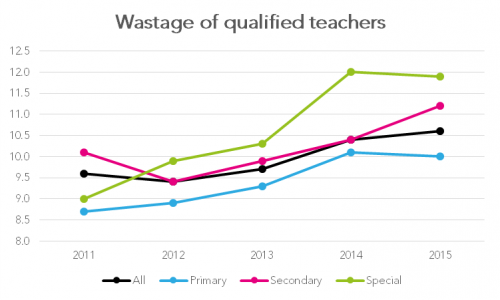 The Department for Education spin on these statistics is that they are fine, since recruitment to the profession is at record levels. But for every unhappy teacher who leaves the profession, there are many more colleagues who are equally unhappy but cannot or do not leave. Moreover, the pressure to recruit such large numbers to train is increasingly challenging and so we are likely to start compromising on quality of new recruits.
The data on teacher wastage looks far more serious once we split those leaving into retirements and elsewhere. Retirement rates are down by the third over the past 4 years, reflecting the shrinking size of the teacher population aged 55 and over. But wastage out of service elsewhere has risen by over a third.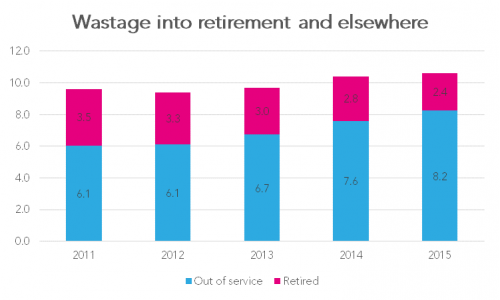 Numbers of unqualified teachers continue to rise
The increased use of unqualified teachers – now at 5% – may also signal a tightening teacher labour market. Although their use may reflect strategic changes in recruitment practices (e.g. recruiting non-teachers or overseas teachers without relevant qualifications), many school employ unqualified teachers because they have no other options. The incidence of unqualified teachers is far lower in LA maintained schools, but it is rising equally fast across all sectors.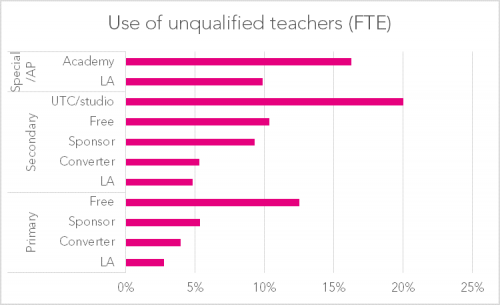 Tightening budgets and curriculum reform drive rising pupil-teacher ratios in secondary schools
The number of secondary school teachers continues to fall faster than pupil rolls, resulting in a rise in the pupil-teacher ratio from 14.9 to 15.3. We should expect this because budgets have become very tight over this period. But it is the Key Stage 4 curriculum realignment that supports the rise in class sizes, concentrating pupils in EBacc subjects rather than spreading them more thinly across a wider choice of GCSEs.