The Conservatives' manifesto has revised the party's commitment to require all students to study the English Baccalaureate subjects at Key Stage 4.
It now has a more modest proposal that 75% of students should study the EBacc by the end of the next parliament [PDF].
To be considered to have entered the EBacc a child must take qualifications in five 'pillars': English language; maths; science; history or geography; and a language.
As we have written before, the greatest constraint on reaching this target is the availability of language teachers.
How many language teachers would be needed?
The number of new language teachers we would need to reach the 75% target rather depends on whether it applies to the population of pupils, or to each individual school.
(It's also unclear at the minute whether targets won't apply to university technical colleges and studio schools – special types of academy. If EBacc targets don't apply to them, it will sharpen up the dividing lines between the academic and vocational parts of the Conservatives' education policy.)
The analysis we published a year ago shows the relatively small number of schools where every pupil takes at least one language GCSE.
Currently one-in-six schools have already reached the government target of 75% of pupils with a language entry. (Note: we are reporting 2014/15 data here but the 2015/16 is almost identical).
Over a third of secondary schools can reach this target simply by filling the empty seats in existing language KS4 classes. By filling seats and adding just one extra language class to each KS4 year group this increases to two-thirds of secondary schools.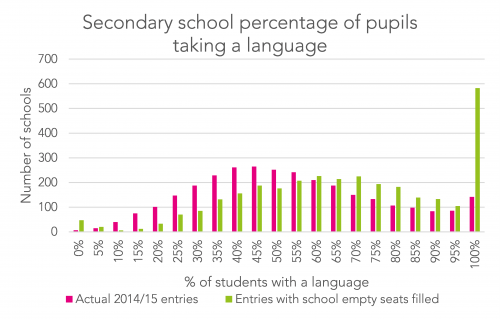 This obviously leaves a long tail of one-third of schools with very low language entries. For example, we think there are about 40 schools who would need to add five new language classes per year group to meet the 75% target.
However, if the 75% target does not apply to individual schools then things get much easier for the government.
Currently, about 55% of pupils take a language at KS4. This rises to about 65% simply by filling the empty seats in KS4 classrooms. And requiring those two-thirds of schools who cannot meet the target this way to add an extra language class per year group takes the total over the 75% target, even though many of these schools will not individually meet the goal.
So, we think the national target could be met by adding about 2,000 classes per year group. But the target could only be met in every individual school if we add almost twice as many classes as this – around 3,700 classes per year group.
Want to stay up-to-date with the latest research from Education Datalab? Sign up to our mailing list to get notifications about new blogposts, or to receive our half-termly newsletter.